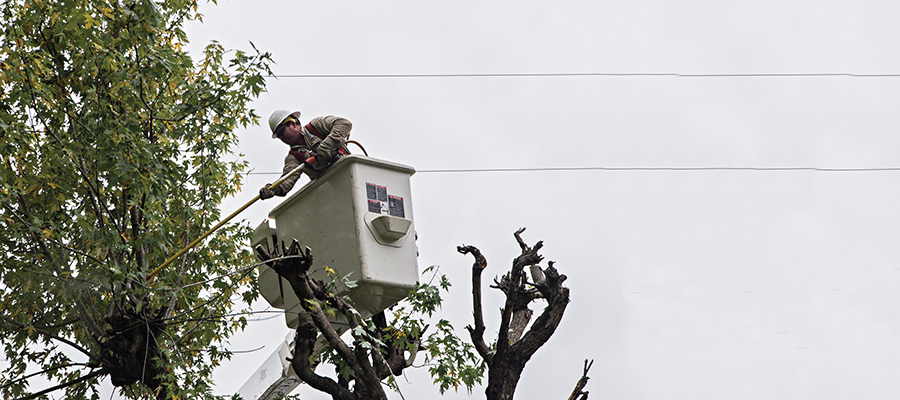 Tree limbs falling against power lines and utility equipment are a major reason for power outages.
That's why Ripley Power and Light Company has an ongoing program to trim tree branches away from power lines. The program's purpose is to insure both electric reliability and safety.
Our goal is to work each street in our service area every year so that we can trim trees enough to accommodate growth until we're back again.
Our customers also can help us keep the lights on.
Where you can, remove tree limbs that are dead or threaten power lines. (Remember, only a professional should work close to power lines because of the danger of live electricity.)

Avoid planting large growing trees, such as oak and maple, near power lines. Pines especially are susceptible to ice and high winds.
If you see a potential problem with tree limbs against power lines, give us a call.
Planting trees
Here's a rule of thumb for planting trees. Small trees that grow no more than 30 feet should be planted at least 10 feet away from utility poles, street lights and power lines. Trees growing up to 50 feet in height should be planted at least 35 feet away, and trees larger than 50 feet should be at least 45 feet away.
If you need to plant near a power line, consider a smaller tree that will stay out of power lines, enhance your yard and even help attract wildlife.
Some of the trees recommended by the University of Tennessee Extension Service include …
Flowering dogwoods, which offer beauty every season, from flowers in the spring to berries in the fall.
Autumn olives, which have a light gray bark and a marble-sized orange fruit loved by wildlife.
Japanese flowering crabapples, which have fragrant flowers in the spring and summer and fruit later in the season.
Wild plum trees, which are fairly small trees that produce fruit in late spring and early summer.
.