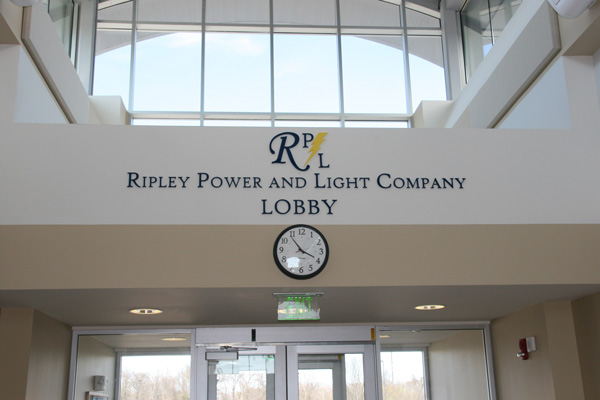 Ripley Power and Light is involved in our communities in many ways. Whether it's lighting for City Park in Ripley or working to attract a new industry, we consider ourself a partner in helping our communities. Here are some of the ways we are involved …
Economic growth is a priority. Working with TVA, West Tennessee Industrial Association and state and local officials, Ripley Power and Light is prepared to give prospective industries any information they need about locating in our service area. At the same time, we make sure we have the infrastructure in place to meet industrial needs.
The utility maintains street and traffic lights for Halls, Henning, Gates and Ripley.
In 2014, Ripley Power and Light gave funds earned from a TVA generation project to Lauderdale County's top three tourist attractions – Fort Pillow State Historic Park, the Veterans' Museum in Halls and the Alex Haley Museum in Henning. The tourist sites used the contributions to make needed improvements. "This investment created an economic ripple that benefits all of us," said Mike Allmand, Ripley Power and Light President and CEO. "Tourism generates income and provides jobs locally. The better our attractions do, the more people come from out of town to spend money." The donation to the three tourist attractions came from the money TVA pays Ripley Power and Light for generating electricity for TVA's power grid, Allmand said. The money did not come from customer rates.
Ripley Power and Light offers scholarships to Lauderdale County students who attend Dyersburg State Community College and the University of Tennessee Martin-Ripley Center. Each school has a total of $7,500 in scholarship monies allocated each academic year. To apply, contact each school's Financial Aid Office.
Dyersburg State Community College honored our commitment to providing scholarship money by naming the lobby of the Tipton County Public Library at its campus in Covington after the utility. The Ripley Power and Light Lobby sits in the 54,000-square-foot Learning Resource Center.
Employees give talks to schools and organizations about electric safety. Learn more.
Ripley Power and Light works with our communities to install outdoor lighting where needed. This includes the walking track lights in Ripley's City Park, floodlights for the Cleveland Street Park in Ripley and ballpark and lights for Critchfield Park in Halls.
We help our communities in other ways, such as putting up Christmas decorations or making sure the construction of the Alex Haley Museum had its electric utilities in a timely manner.
Ripley Power and Light administers the Plus One Program at no cost for those in need who cannot pay their utility bill. Customers are encouraged to donate to the Plus One Program through their monthly electric bill. You can sign up online.
---
In-lieu-of-tax payments provide funds directly to local governments
Each year, Ripley Power and Light makes in lieu of tax payments to help support Lauderdale County and the local municipalities we serve.
The amounts are determined by a formula, which is audited by TVA and Ripley Power and Light. The funds come directly from operating revenues, which are received from the sale of electricity to customers.
"The money we pay is based on the net plant value we have in each of the communities we serve," said Mike Allmand, President and CEO of Ripley Power and Light. "The net plant value includes lines, poles and other equipment. It's our contribution because we don't pay taxes, and we want to pay our part."
As a public utility, Ripley Power and Light is exempt from paying taxes.
"This is not a mandate," Allmand said. "By law, this is the only way a city can receive funds from the Power and Light Company. It is our investment in our communities."
TVA also contributes in-lieu-of-tax money to the county for its power lines and substations located here.
2015 Distribution of Funds
City of Ripley: $330,831
Town of Halls: $23,644
Town of Gates: $3,497
Town of Henning: $5,923
Lauderdale County: $105,647
Total Funds Distributed: $469,542
2014 Distribution of Funds
City of Ripley: $343,482
Town of Halls:  $21,979
Town of Gates: $3,379
Town of Henning: $5,863.
Lauderdale County: $108,785.
Total Funds Distributed: $483,488
2013 Fiscal Year Total: $472,679
For more information, contact Ripley Power and Light at 731-635-2323 or 731-836-7595.
---
Safety talks give children life-saving information
Armed with booklets made for children, a demonstration on how electricity works and years of knowledge, Mike Demeris is prepared to talk about electricity and electrical safety in classrooms across the community.
"Children love it when the sparks fly," said Demeris, Energy Services Specialist with Ripley Power and Light Company.
He partners with TVA for the demonstration on electricity. And the sparks do fly when he creates an electric current.
As Demeris explains current, conductors, insulators and power lines, the underlying message is always about safety.
"Electricity can be dangerous," he said. "Knowing about electrical safety will help keep them and their friends and family safe. My talks teach them basic science and electrical facts so they can better understand why safety rules are important."
They learn, for example, that electricity always seeks the easiest path to the ground. If a power line is energized and a kite they are flying comes in contact with the power line, it's possible the electric current will reach the ground through their kite and through them.
Demeris hands out booklets geared to different ages. The colorful booklets include puzzles, games, science experiments and lots of information. Charts explain how electricity is generated. He can explain the cost of operating every piece of equipment and appliance in their homes.
He can also give teachers websites that offer videos and more information.
"We can adapt the talk to any age group," Demeris said. "I always try to set up something interesting."