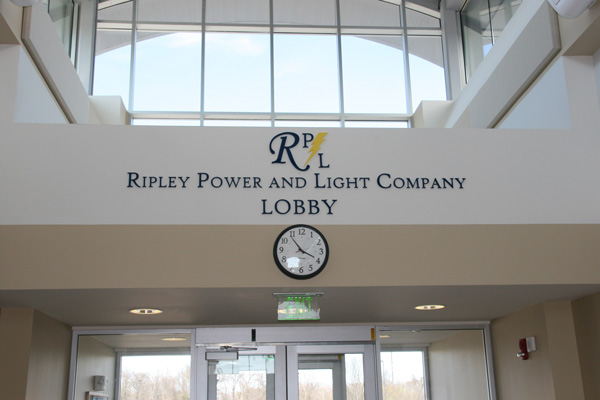 Ripley Power and Light is involved in our communities in many ways. Whether it's lighting for City Park in Ripley or working to attract a new industry, we consider ourself a partner in helping our communities. Here are some of the ways we are involved …
Economic growth is a priority. Ripley Power and Light works with the State of Tennessee, TVA, HTL Advantage and the West Tennessee Industrial Association to help existing industry and to attract new industry and jobs. The new Ford plant at the megasite — 30 minutes away from Lauderdale County ­— will be an opportunity to sell Lauderdale County to the many new residents moving to West Tennessee and to the supporting industry that will create more jobs. Ripley Power and Light is a member of the team trying to attract those residents and jobs to Lauderdale County.
The utility maintains street and traffic lights for Halls, Henning, Gates and Ripley.
In 2014, Ripley Power and Light gave funds earned from a TVA generation project to Lauderdale County's top three tourist attractions – Fort Pillow State Historic Park, the Veterans' Museum in Halls and the Alex Haley Museum in Henning. The tourist sites used the contributions to make needed improvements. "This investment created an economic ripple that benefits all of us," said Mike Allmand, Ripley Power and Light President and CEO. "Tourism generates income and provides jobs locally. The better our attractions do, the more people come from out of town to spend money." The donation to the three tourist attractions came from the money TVA pays Ripley Power and Light for generating electricity for TVA's power grid, Allmand said. The money did not come from customer rates.
Ripley Power and Light offers scholarships to Lauderdale County students who attend Dyersburg State Community College and the University of Tennessee Martin-Ripley Center. Each school has a total of $7,500 in scholarship monies allocated each academic year. To apply, contact each school's Financial Aid Office.
Dyersburg State Community College honored our commitment to providing scholarship money by naming the lobby of the Tipton County Public Library at its campus in Covington after the utility. The Ripley Power and Light Lobby sits in the 54,000-square-foot Learning Resource Center.
Ripley Power and Light works with our communities to install outdoor lighting where needed. This includes the walking track lights in Ripley's City Park, floodlights for the Cleveland Street Park in Ripley and ballpark and lights for Critchfield Park in Halls.
---
In-lieu-of-tax payments provide funds directly to local governments. Learn more …