Reliable Public Power Provider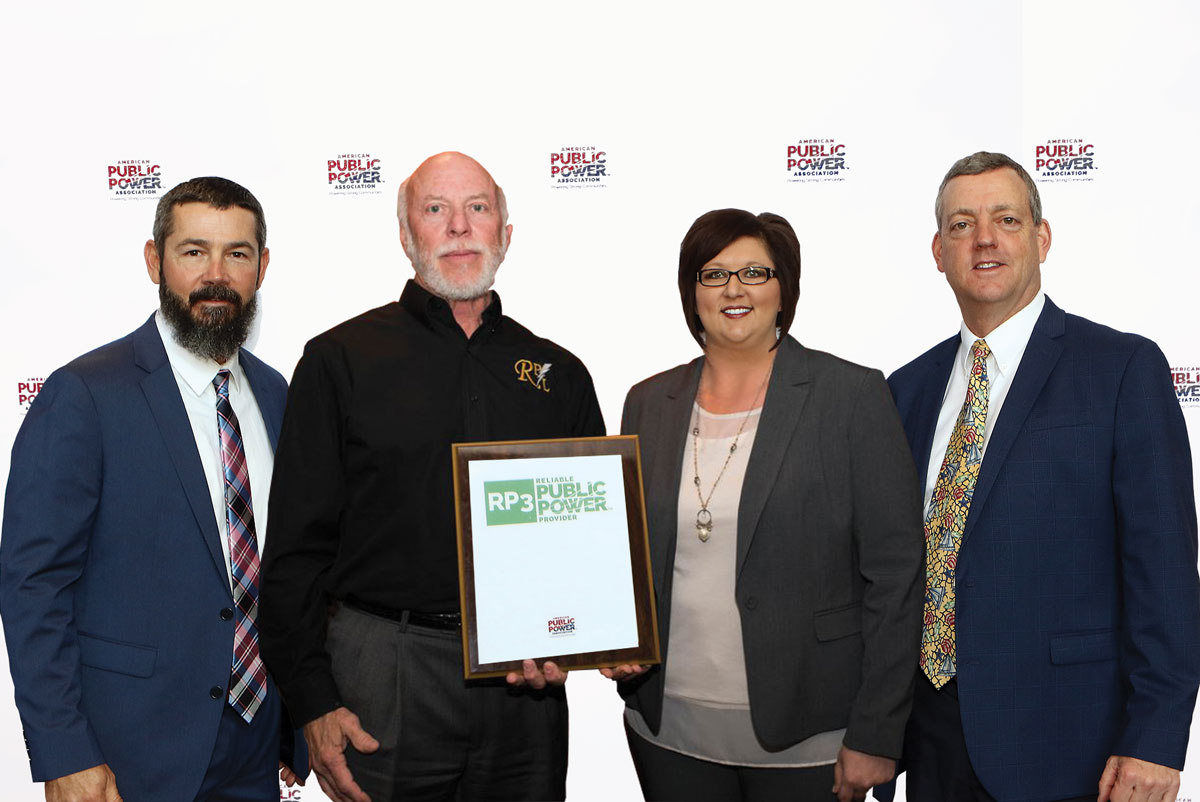 Ripley Power and Light Company showed once again that it provides customers safe and reliable electric service. For the third time, the Ripley utility received the Reliable Public Power Provider (RP3) award from the American Public Power Association in April 2016.
This time, Ripley Power and Light earned the Diamond RP3 Award – the highest of three levels of recognition and the most difficult to achieve and maintain. Utilities that demonstrate high proficiency in reliability, safety, workforce development and system improvement are given the title and set apart as one of the best utility companies in the nation.
Criteria get tougher each application cycle, so utilities must be continuously improving to help maintain the designation.
"We're honored to receive the diamond RP3 designation," said Ripley Power and Light President and CEO Mike Allmand. "Our employees put in a lot of hard work to serve this community. RP3 represents a much appreciated recognition of this hard work."
The RP3 designation lasts for three years.
Ripley Power and Light is one of 29 utilities that earned the designation in 2016. In total, 219 utilities hold the RP3 designation and only 62 of them hold the diamond rating.
Here's a closer look at the criteria used for the award …
Reliability: Ripley Power and Light was judged not only on providing reliable utility service, but also on how it tracks to make sure it provides reliable service and the system improvements it makes to ensure reliability. It also was judged on infrastructure security, cyber security, its identity theft procedures to protect customer information security and a disaster plan.
Safety: The utility company was judged on its safe work practices, safety training and classes for employees, customer safety information, safety manual use and adoption and safety drills. For example, Ripley Power and Light routinely offers safety classes for employees. Portable defibrillators are on line crew vehicles, Allmand's vehicle and in the office.
Workforce Development: Ripley Power and Light was judged on education classes offered to employees, its cross training program, its lineman certification program and its post high school scholarship program.
System Improvements: Ripley Power and Light has an ongoing program of system improvements. Even though it is a small utility, it is innovative in many ways. It was among the first utilities, for example, to install automated meter reading and electronic meters at all customer locations.
---
Excellence in Safety
When it comes to safety, Ripley Power and Light takes its work seriously and has the awards to prove it; the utility was recognized twice for excellence in safety in early 2016.
Ripley Power and Light is one of only four companies to receive a perfect score on the safety audit performed by Distributors Insurance Co. The purpose of the safety audit is to identify deficiencies and follow recommendations to improve the utilities.
"It's a pretty big deal to score 100," said DIC Safety Consultant Steve Powell, who conducted the survey. "There aren't too many of those handed out."
Ripley Power and Light was also recognized for its excellence in safety by the American Public Power Association. More than 250 utilities entered the annual safety awards and were judged based on the incidence rate of work-related reportable injuries or illnesses and the number of worker-hours during 2015. Ripley won first place in the state of Tennessee in its category.
"At Ripley Power and Light, we are proud of the service we provide our customers," said Ripley Power and Light President and CEO Mike Allmand. "But above all else, we are proud of our safety record – proud that we do everything we can to send our people home to their families every night."