Reliable Public Power Provider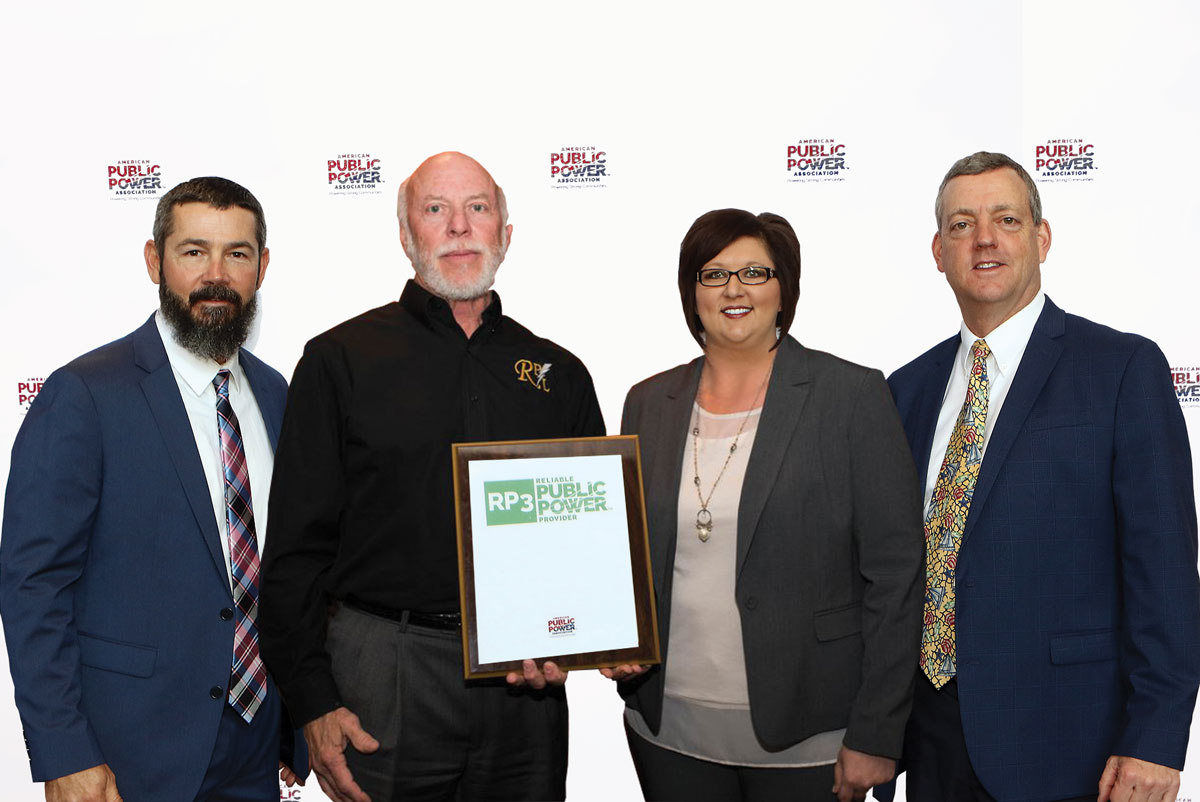 Ripley Power and Light Company once again has earned the Reliable Public Power Provider Diamond Level designation. This prestigious award is a testament to RPL's commitment to its employees, customers and community by providing safe and reliable electric service, said Ripley Power and Light President and CEO Mike Allmand.
The RP3 designation is awarded by the American Public Power Association, which supports not-for-profit, community-owned utilities in more than 2,000 cities and towns throughout the country. The Diamond Level is the highest honor in the RP3 awards. Only 106 out of 2,000 public power utilities across the United States have earned that designation.
Overall, 275 public power utilities nationwide hold the RP3 designation at all levels.
Ripley Power and Light completed a rigorous application process to achieve this distinction. A panel of utility experts examined RPL's operations in four key disciplines: reliability, safety, workforce development and system improvement.
Throughout the process, Ripley Power and Light demonstrated its dedication to exceeding industry standards of practice, Allmand said.
"The utilities receiving the RP3 designation have proven that they are committed to running a top-notch public power utility by implementing industry best practices," said Aaron Haderle, chair of APPA's RP3 review panel and manager of Transmission and Distribution Operations at Kissimmee Utility Authority in Florida.
"We couldn't be prouder to be honored with this designation," Allmand said. "This is the culmination of a lot of work from a lot of people who really care about powering our community. But this designation is not a final destination. We are committed to continuing to look for ways to improve our operations and service to our customers."
The RP3 designation lasts for three years. This is the fifth consecutive time Ripley Power and Light has achieved this distinction.
Here's a closer look at the criteria used for the award …
Reliability: Reliability goes deeper than day-to-day service. The reliability section includes collecting and analyzing reliability data, having a mutual aid agreement, devising and using a system-wide disaster management or emergency response plan, and implementing cyber and physical security.
Safety: Utilities must create a culture of safety with commitment from top management. All aspects of operations from power generation to line work require safety protocol. The delivery of safe and reliable electricity demands benchmarking safety metrics, focusing on frontline workers, and implementing rigorous safety training.
Workforce Development: We train our staff through webinars, workshops, conferences, college courses and in-house programs.
System Improvements: This section focuses on how we maintain system integrity and promote long-term planning through managing utility assets and system improvement.
---
Excellence in Safety
Ripley Power & Light was honored with the American Public Power Association's Safety Award of Excellence for safe operating practices in 2021 — the company's seventh consecutive win.
In the category for utilities with 60,000 to 109,999 worker-hours of annual exposure, Ripley Power & Light earned first place for safety practices among its electrical workers. The utility had 65,284 worker-hours of exposure in 2021—an increase from past years—and still maintained the fewest number of work-related injuries or illnesses for the year.
The annual safety awards had 318 entrants from across the country. Categories were determined by the number of worker-hours during 2021. Entrants were ranked by the most incident-free records for the year. Those are reports filed by employees who work directly with electrical lines and equipment. The Occupational Safety and Health Administration keeps track of work-related reportable injuries and illnesses, and uses those numbers to determine which utility companies have the most effective safety practices for their workers.
"Ripley Power and Light values employee safety above all else," said Ripley Power and Light President/CEO Mike Allmand. "We all recognize the importance of going home to our families each day. This is what drives our dedication to safety."
APPA has issued its annual safety awards for more than 65 years.