Investing in our Communities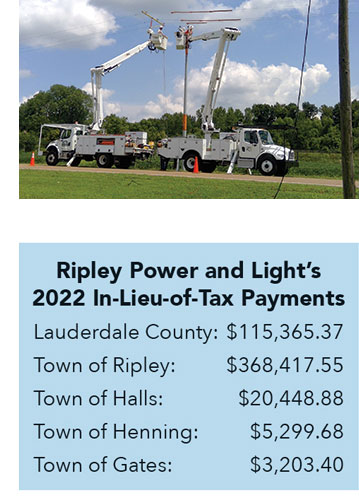 The number of transformers, poles, lines and other infrastructure in each of its communities determines how much Ripley Power and Light Company pays in lieu of taxes to the communities.
"As a public utility, we're actually exempt from paying taxes," said Mike Allmand, president and CEO of Ripley Power and Light Company. "Instead, we pay in lieu of taxes. We're not required to do so, but we believe in helping our communities grow and succeed."
The annual in-lieu-of-tax payment made at the end of the fiscal year each summer is one of many investments the electric utility makes.
Other investments include working with TVA, state and regional groups to foster economic growth; giving scholarships to students at Dyersburg State Community College and the University of Tennessee at Martin-Ripley Center; maintaining street and traffic lights for Ripley, Halls, Henning and Gates; and working with communities to install outdoor lighting in public areas.