Residents spread joy all year with their talents
Ripley and surrounding communities are blessed with talented people who like to share their work with others. Residents like Ronnie Blakely, who bakes sweets; Rhonda Morrow-McClodden, who plans events; and Alisa Chaney, who makes crafts; add a flair to life in Lauderdale County with their hobbies and careers. They bring happiness to people with the product of their work.
Candy Maker: Sharing sweets throughout the community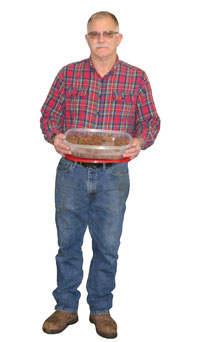 Ronnie Blakely likes to bake sweets and share them with as many people as he can.
In addition to mainstays like Rice Krispies treats, he makes a variety of fudge, including an award-winning maple nut. He then delivers them to grateful candy-lovers around Ripley.
"I enjoy it, and I enjoy seeing the happiness in their eyes," Blakely said. "I enjoy seeing the joy that people get out of eating that."
He brings fudge to Ripley Power and Light's office on South Main Street for the employees, who are grateful for the delicious treats. He also delivers to employees at the courthouse, churches and businesses around town.
Blakely, 64, started baking after spending 11 years in the U.S. Army as a cook. It's a hobby he squeezes in between his full-time job at the justice center and part-time jobs at two nursing homes.
What makes his concoctions special is the goodies he adds to them. He'll take a traditional recipe and add extra candy or nuts. "I take candy and make candy," he said.
Some of it he sells – a four-pound bag of fudge goes for $30. A lot of it, however, he gives away; and, fortunately for sweet tooths throughout Ripley, he doesn't plan to stop.
"As long as I have breath in my body, I want to keep doing this for people."
Event Planner: Taking care of the details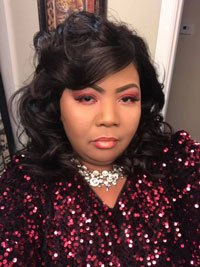 Planning an event – whether it's a wedding, baby shower, kid's birthday, company get-together or just a party with friends – can be overwhelming.
That's where Rhonda Morrow-McClodden comes in. The event planner from Ripley said she works to make dream events a reality.
"If you go online or if you see things in magazines, you really don't know where to begin to put everything together," she said. "They don't know where to start or how to create it. With my services, all you got to do is show up."
Morrow-McClodden, who owns Elite Events, can plan every detail of an event. She brings the tablecloths and chair covers, sets up centerpieces and creates decorations to her customers' liking. She specializes in unique and trendy décor for any occasion.
"I love what I do," she said. "I love the outcome of it. I love the expressions on my customers' faces when they walk in and see what we do."
Many people get intimidated or wary about additional costs when hiring an event planner, Morrow-McClodden said. But she can reduce the overall costs because customers don't have to purchase the items required for a party that she brings with her, such as tablecloths and decorations.
"I've had people think they could do it cheaper, but they paid more on materials," she said. "I can accommodate anybody from a large budget to a small budget. I work with any budget."
Event planning was just a part-time job when Morrow-McClodden first started, but she said it kind of overtook her life. The business requires a lot of work, and it can be exhausting and frustrating, she said. But when it's over and people appreciate the work, she said it revitalizes her and gives her the energy to keep going.
"It's absolutely wonderful," she said. "You really have to love what you do. Anybody can decorate, but if you have the heart for it, it comes out amazing."
Craft Maker: Decorations for people's homes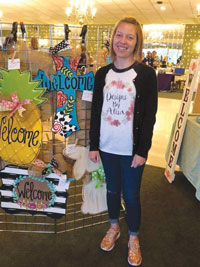 Alisa Chaney has a talent for crafts, and she shares them with happy customers at local fairs.
"I mainly do small crafts," she said. "It's just like a little hobby that I have. It's something to keep me busy. It's something to pass the time."
She started with burlap door hangers, then moved on to wooden door hangers when people requested it. Now she makes crafts of all sorts and paints wood of all types to be used as decorations in homes throughout the community.
"Anything I can paint, I paint."
She's had her hobby since before her 23-year-old daughter was born. She stopped for years, though, as she focused on raising and home-schooling her child. These days, she's back at it.
Chaney, who lives in Ripley, sells her crafts out of her home and at local crafts fairs. She said she enjoys the fairs because she gets to see the people she's met through the years – customers and vendors alike – over and over again.
"It's just fun to go see everybody you know," she said.
---
If you know of someone who has an interesting job or hobby, send his or her contact information to Tracy Etheridge at tracy@ripleypower.com or 731-635-2323. We're always looking for good stories for Tennessee Connections.