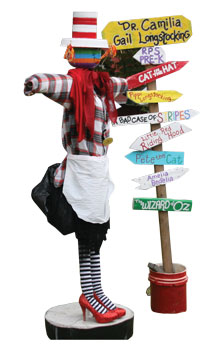 It's Halloween all October on Ripley Court Square
Businesses, organizations and individuals are invited to participate in Squarecrows, an annual project sponsored by the Ripley Downtown Development Corporation.
Children are more than twice as likely to be hit by a car and killed on Halloween than on any other day of the year. Lack of visibility because of low lighting at night also plays a factor in these incidents.
Information about Squarecrows, dates, Squarecrow PVC frames, rules and the entry form are on the organization's facebook page: facebook.com/developripley38063.
The Squarecrows go up on Thursday, Oct. 1, and must be taken down on Nov. 1.
If you have any questions, call Lee Johnston at 635-0008.