Utility receives highest honor for providing safe, reliable electric power
Ripley Power and Light Company has once again earned a Reliable Public Power Provider (RP3) Diamond designation – the highest available – from the American Public Power Association for providing reliable and safe electric service.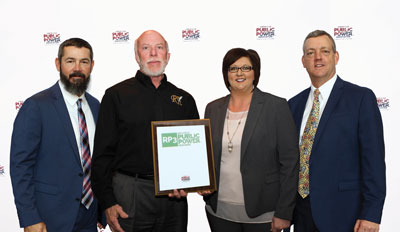 Ripley Power and Light joins 106 out of approximately 2,000 public power utilities nationwide to hold the highest designation. With an application score of 98.5 out of 100, this is the utility's fourth consecutive RP3 award. Criteria for RP3 include sound business practices and a utility-wide commitment to safe and reliable delivery of electricity.
Ripley Power and Light joins more than 270 public power utilities nationwide that hold the RP3 designation.
"This is a great honor," said Mike Allmand, President and Chief Executive Officer of Ripley Power and Light Company.  "We take a lot of pride in the work we do to power our community. It's nice to be recognized as among the 'best of the best' on a national level."
The RP3 designation, which lasts for three years, recognizes public power utilities that demonstrate proficiency in four key disciplines: reliability, safety, workforce development, and system improvement.
Reliability: Ripley Power and Light was judged on providing reliable utility service, as well as how it works to ensure it provides reliable service. It also was judged on infrastructure security, cyber security, identity theft procedures to protect customer information security, and a disaster plan.
Safety: The utility company was judged on its safe work practices, safety training and classes for employees, customer safety information, safety manual use and adoption, and safety drills.
Workforce Development: Ripley Power and Light was judged on education classes offered to employees, its cross-training program, its lineman certification program and its community post high school scholarship program.
System Improvements: The utility has an ongoing program of system improvements. Even though it is a small utility, it is innovative in many ways. It was among the first utilities, for example, to install automated meter reading and electronic meters at all customer locations.
The American Public Power Association is the voice of not-for-profit, community-owned utilities that power 49 million people nationwide. It also advocates and advises on electricity policy, technology, trends, training and operations.
Aaron Haderle, chair of the association's RP3 Review Panel, presented the honors on April 1 during the association's annual Engineering & Operations Technical Conference in Colorado Springs, Colo.