Son's Death a Catalyst for Helping Others
What started out as a way to help cover funeral costs for Scott and Melissa's 19-year-old son, Colton, has become annual fundraisers to help other children.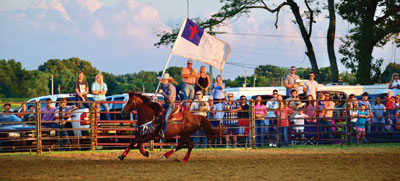 "We put on horse shows, rodeos and point shows every other Friday night," said Scott, a lineman at Ripley Power and Light.
Scott and Melissa were overwhelmed by the support they received from friends and family members after Colton died in 2016. They offered to put on a rodeo in Colton's memory to help defray funeral costs.
A rodeo was a great way to remember Colton, who was an avid bullrider.
"I didn't know what I was going to do after we lost Colton," Scott said. "Then Melissa and I started talking. My buddies helped us out so much. We decided to have a memorial rodeo each June to help other children."
Events include bullriding and barrel racing. Each year, funds raised at the rodeo go to three children who need help financially to fulfill their dreams and compete in the international rodeo.
The memorial rodeo is in the Flying H Arena in Halls, which was built by Scott and his buddies, after another arena was torn down. The arena also hosts a Hope Fund horse show, which benefits children being treated at St. Jude Children's Research Hospital.
The Point Show held every other Friday night allows young riders to accumulate points for how well they do. At the end of the year, points are tallied and the riders receive prizes. "If we can touch a kid and keep him or her off the street and on a horse, we feel like we've done something," Scott said.
The Ozments have two other children, Mollie, 17, and Tucker, 14. Everyone participates in the horse events, said Scott, who said he was still in diapers when he first starting riding on his family's farm.
For Scott and Melissa it's all about family and friends. People who can help others.
"Everyone loved Colton," Scott said. "He was a joker. He loved to hunt, he loved riding horses and he loved bull riding. He would love what we are doing, too."
For more information about events at the Flying H Arena, go to its Facebook page: Flying H Arena.