'Do What's Right By the Horse'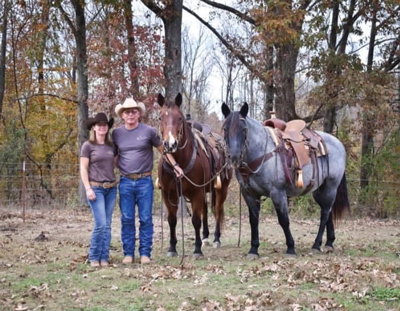 Johnathan and Stacie Kissell of Gates own JSK Performance Horses, where they breed and train horses for people across the country
When Operations Superintendent Johnathan Kissell is not working to keep the electric system reliable and safe, he most likely is training a colt in the round pen at his Gates farm.
Johnathan and his wife, Stacie, own JSK Performance Horses. They breed, train and sell cow horses to farms and ranches across the country.
Johnathan is a "colt starter"—a trainer who gives young horses the best start possible. It takes patience and time. Johnathan works with each colt for two years before the horses are old enough for a saddle and rider. He is often the first rider on the horses.
The Kissells believe in going slow, "to always do what's right by the horse," Stacie said. "We rope them and work them until they tell us they are ready for the next step. Johnathan doesn't like for me to call him a horse whisperer, but he has a gift for working with horses that not many people have."
A Passion for Horses
Stacie bought the 46-acre farm in Gates in 2016. She and Johnathan met at a feed store and married in 2019.
She works as a licensed practical nurse, but her devotion to horses started early in life.
Stacie got her first horse when she was 9 years old, went on trail rides and has shown horses since then.
"I started breeding horses in 2010 with the purchase of my stallion," she said. "Breeding and raising colts are my passion."
Johnathan has been training horses for 36 years. He enjoys the challenge.
"I like to see how far I can get a colt in 30 days," he said. Johnathan said he often is asked to train problematic and abused horses.
Scarlet's Story
One of those is Johnathan's horse, Scarlet. Stacie bought Scarlet at 2 years old for her husband.
"Scarlet was only halter broke at the time," Stacie said. "She is a beautiful little mare who had a big scar on her side. Where there is a scar, there is a story.
"Thing is, horses can't tell us what happened to them. We have to be patient and let them slowly tell us. Long story short, Scarlet had some trust issues.
"Johnathan took his time, and as she began to trust him, great things happened. Scarlet is now a finished rope horse."
Scarlet most likely would have had a different fate without patient training, Johnathan said.
Johnathan and Stacie say they are still learning.
"We both feel extremely fortunate that we have had mentors in our lives that have taught us so very much about horses and the industry," Stacie said. "Sam Davis, for example, taught us about all things horse and equine reproduction, and Gordon Turner taught us to look at the pedigree, all the way back, and how to feed a horse to make him look his best."
Stacie traveled to Texas to learn more about breeding from a friend. Johnathan went to horse competitions to learn and watch the experts.
"We could ramble on for days about our love for horses," Stacie said.
To learn more about JSK Performance Horses, visit the company's Facebook page, where Stacie posts updates on their horses.