Jeans made with cotton grown in Halls
The next time you buy a pair of Wrangler jeans, check to see if they were made from cotton grown in Halls, Tennessee.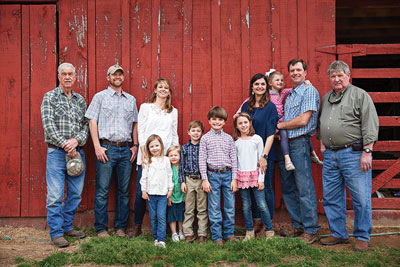 Pugh Farms in Halls is part of a new program from Wrangler that honors land stewardship and champions state pride with a line of jeans celebrating farmers from five states.
"Farming is a lifestyle; it's not a job," said Eugene Pugh. "I love what I do, and wouldn't want to do anything else."
Pugh is a fifth-generation farmer who farms alongside his dad, cousin and uncle. The family has been farming in West Tennessee since the Civil War ended in the 1860s.
Working on his farm is a team effort that begins with a good crew that supports one another, he said. They use sustainable growing methods to cultivate healthy cotton, corn and soybean crops.
"I believe the best thing you can put in a field is your footprint or your shadow," Pugh said. "You got to be there, and you got to know what's going on."
Pugh Farms, along with farms in Alabama, Georgia, North Carolina and Texas, supplies cotton to Wrangler's new Rooted Collection. The farmers are the first growers in the Wrangler Science and Conservation program, which advocates for land stewardship and soil health best practices.
These science-backed methods build crop resilience to weather disruptions while improving yield, reducing water and energy inputs, fighting erosion, and reducing greenhouse gas emissions. Wrangler aims to source 100 percent of its cotton from farms using these practices by 2025.
"The Wrangler Rooted Collection reflects our commitment to strengthening local communities and supporting U.S. farmers," said Tom Waldron, President of Wrangler. "Equally important, the introduction of this collection aligns with our goal to continually improve the environmental performance and traceability of our products."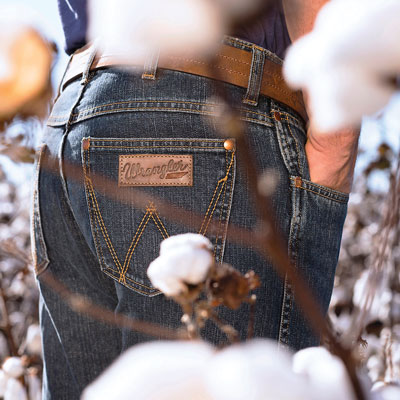 The collection features jeans made with 100 percent sustainable cotton, and the cotton used for each state- specific jean is traceable to a family farm in that state. Each state's design includes a unique wash, as well as trim and patch details featuring the state's silhouette and other embellishments. The collection also includes two T-shirt designs for each state, as well as three national designs.
The Tennessee jean features custom shanks and rivets, a Tennessee patch, and the Pugh family's story on the inner pocket. The jean sits below the waist, is slim through the seat, thigh and knee, and features a sleek, straight leg that fits over boots.
The jeans can be purchased in Lauderdale County.
"I think it's so exciting to see the jeans from Wrangler that are produced from my cotton," Pugh said. "We get to see the fruits of our labor, and we also get to take a piece of our crop with us that we've worked so hard on all year long."
   
Pugh Farms uses cover crops and conservation tillage to build soil health and control erosion. "It's allowing us to decrease our inputs while maintaining, and even improving, yield. And at the same time, our soil is improving with each passing season. That feels really good."
The cover crops, which are planted in the fall, include legumes, grasses and radishes. In 2018, when West Tennessee received 70 inches of rain – the most on record – those crops helped save the soil.
"Without cover crops with their roots in the ground, a lot of my soil would have washed away," Pugh said. "And the tillage radish helped to open up the soil so the excess water could be stored for later in the season."
"Sustainability to me is maintaining what we have and preserving it for the future," he added. "I'm glad to have this opportunity to let the world know that we are good stewards of the land, and we run a sustainable farm."