'The Fascinating World of Murray Hudson's Globes and Maps'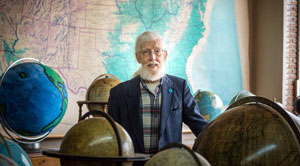 Murray Hudson, a shop owner in Halls, has spent decades collecting aging maps and globes that shed light on human history in regions around the world.
His store offers one of the largest private collections of for-sale antiquarian maps, globes, books and prints on the planet. They tell the story of progress through exploration, innovation and everchanging political boundaries.
Some of his rare items are now on display at Discovery Park of America in Union City in a temporary exhibit that opened Dec. 2 and shines a spotlight on his unique collection.
"I approached Discovery Park, because when you think of the word discovery, maps and globes are key to creating a visual image," Hudson said.
According to Discovery Park, exhibit-goers will see maps from the 17th century to the present, historic items, beautiful aeronautical and road maps, and incredible globes that could pass for works of art. Visitors will also see rare globes, such as one belonging to a diplomat from 1918 that focuses on political geography, as well as an 1840s German globe that shows Texas as a republic.
Hudson was an English professor who studied at Oxford University in England when he began collecting maps. As a farmer in Dyer County more than 37 years ago, Hudson created a catalogue of old Texas maps printed on his church's copier.
He advertised in a Texas trade publication, and his collection became popular enough to start his own business.
"The phone out at the farm just rang off the wall for a week, and I sold everything," he said.
Avid collectors in Texas financed his appearance at an exposition, and the rest is history. Over time, Hudson would visit second-hand shops and antique stores and add more and more items to his collection.
"I traveled extensively — not just in the U.S. — and anywhere I went, I'd look for them," he said. "And every time I saw a place that looked like it might have some potential, I'd go in."
Hudson's shop in Halls is different than other places offering expensive maps and globes for tens of thousands of dollars. Instead, he offers less expensive items with broader appeal for entry-level collectors. "I've really kind of catered to people getting interested in maps and globes," he said.