A Halloween Safety Check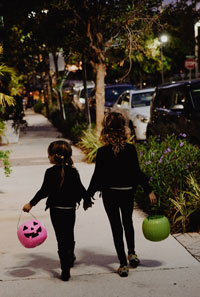 Costume Safety
All costumes, wigs and accessories should be fire-resistant.
If children are out after dark, fasten reflective tape to their costumes and bags, or give them glow sticks.
Halloween makeup should be nontoxic; test it in a small area first; remove it before children go to bed to prevent skin irritation.
On the Prowl
Children are more than twice as likely to be hit by a car and killed on Halloween than on any other day of the year. Lack of visibility because of low lighting at night also plays a factor in these incidents.
A responsible adult should accompany young children.
If your older children are going alone, plan and review a route acceptable to you.
Agree on a specific time children should return home.
Teach your children never to enter a stranger's home or car.
Instruct children to travel only in familiar, well-lit areas and stick with their friends.
Tell your children not to eat any treats until they return home.
Children and adults are reminded to put electronic devices down, keep heads up and walk, don't run.