Tomatoes, Tomatoes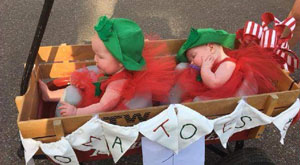 The Lauderdale County Tomato Festival is back! After it was cancelled last summer because of the COVID-19 pandemic, the two-day annual event will be celebrated this year July 9-10 in Ripley City Park.
The festival, which honors local tomato farmers, is sponsored by the Lauderdale County Chamber and Economic and Community Development.
Now in its 37th year, the festival has activities for the whole family. Events include a baby crawling contest, a kid's parade, a 5k run/walk, arts and crafts vendors, food vendors, entertainment, and, of course, plenty of fresh tomatoes.
A concert in the downtown Ripley amphitheater kicks off the festival the night before when Dr. Zarr & the Funk Monsters perform at 7 p.m.
Opening ceremonies begin at 10 a.m. July 9; the festival ends at 10 p.m. the next day.
Event highlights include …
The Tomato Contest, 1 p.m. Friday at Lauderdale County Bank in Ripley.
Saturday Salad & Methodist Market, 10:30 a.m. to 1 p.m. Saturday at the church activity building.
For a complete schedule, visit the festival's Facebook page: facebook.com/Ripleytomatoes or contact the Chamber at 635-9541.
Cook and taste these tomato recipes on your own
The popular Tomato Tasting, hosted by the UT Extension FCE clubs, will not be held this year because it would be too hard to hold it under the current CDC guidelines for serving foot to the public, said Rachel Erwin with UT Extension.
"I feel certain we will be back to holding the Tasting in 2022."
She shared some of the tomato tasting's favorites …
Garlic Creamies
3 small ripe tomatoes
1 minced garlic clove
Ritz crackers
3/4 C. mayonnaise
Chopped chives
·5-6 slices crisp bacon, crumbled
Peel and slice tomatoes. Cut as many tomato rounds as Ritz crackers. Put a slice of tomato on each cracker. Mix mayonnaise with garlic. Spread on tomatoes. Broil 3 minutes until
brown. Sprinkle with chives and bacon.
Tomato Breakfast Casserole
8 frozen hash brown patties
1 cup fresh baby spinach leaves, torn (more if you like)
1 lb. breakfast sausage (no casings) crumbled and browned
2½ C. shredded sharp cheddar cheese
12 large eggs
3/4 C. whole milk
2 large tomatoes, sliced thin or chopped
1 tsp. table salt and freshly ground black pepper
1/4 C. shredded parmesan
Freshly chopped parsley for garnish, optional
1. Preheat oven to 350° with rack on lower middle position. Butter a 9x13 baking dish.
2. Layer the hash brown patties into bottom of dish. Layer the spinach evenly over potatoes, followed by the browned sausage. Layer 2 cups of cheddar cheese evenly over the top.
3. In a bowl, whisk together eggs, milk, salt, and pepper. Pour over casserole mix and pat down the mixture to even it all out and ensure even soaking of the egg mixture.
4. Top evenly with tomatoes, followed by remaining cheddar cheese and parmesan cheese. Top with parsley flakes, if desired.
5. Bake 50-60 minutes or until knife inserted in center shows no uncooked
egg mixture on it. Let cool 10 minutes and serve.
BLT Dip
1/2 C. mayonnaise
1½ C. sour cream
1/2 tsp. garlic powder
1/2 tsp. onion powder
1 lb. bacon crumbled
4 tomatoes diced fine
Crackers
Combine mayonnaise, sour cream, garlic and onion powders in a medium bowl. Cover. Chill at least 5 to 24 hours. Remove from fridge one hour before serving. Stir in tomatoes and bacon. Serve on crackers.