Expo connects students with future careers
Nearly 3,000 eighth graders from 10 different counties in West Tennessee attended a career fair on March 4 and 5 in Ripley Power and Light's multipurpose complex at 164 Viar Ave. The event exposed students to high-demand jobs in the area and gave employers insight into their future talent pool.

The inaugural West Tennessee Pathways2Possibilities Career Expo organized by HTL Advantage – an economic development initiative of Haywood, Tipton and Lauderdale counties – gave students a hands-on introduction to many area businesses and post-secondary schools. The event included more than 50 community volunteers and featured 75 interactive exhibits with more than 300 representatives of businesses and organizations from 11 different counties.
"For it to be the first year, we were very excited that all of our partners in the community got on board with us," said Robin Sealy, Tipton County Workforce Development Coordinator. "It is so important for students to understand the opportunities we have right here in West Tennessee, and we want employers to know that this is their talent pipeline that's coming to them."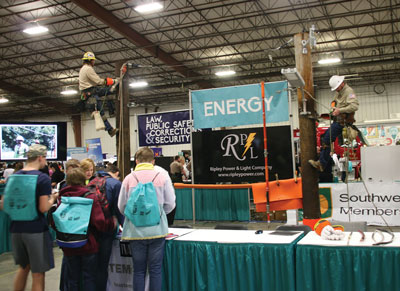 The exhibitors were from private industries and post- secondary schools, such as Dyersburg State Community College and Tennessee College of Applied Technology. Ripley Power and Light had an exhibit with employees on hand to answer questions. Other exhibits represented a variety of sectors, including health care, aerospace, manufacturing and engineering.
The eighth graders – along with teachers and guidance counselors – were from public schools, private schools and home schools throughout the region. The expo allowed them to begin planning their high school classes around their areas of interest, which provides a better pathway to their careers.
The idea for the event came from a career expo in Mississippi visited by West Tennessee economic development officials that had 2,500 students in attendance.
Organizers of West Tennessee's event were excited that it was even bigger than the expo in Mississippi. They received positive feedback, and they expect more students to attend future career expos. They want the career fair to be an annual event.
"It was an amazing event," Sealy said. "We were very happy with the turnout, and I think our community volunteers exceeded our expectations. Overall, we were just thrilled, and I think moving forward, it's just going to grow."