Energy Specialist, Mike Demeris, retires after 30 years of service
Whenever Ripley Power and Light made suggestions to customers on ways to save energy, Mike Demeris tried it at his home first.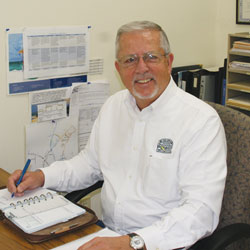 "I always put it in my house first," said Demeris, Power and  Light's energy services specialist, who is retiring from the utility after 30 years. "I had to experience it before I could recommend it."
Today, he has perhaps the most energy-efficient home in the Ripley area. The highest electric bill he can remember for his 2,000-square-foot home is $150, he said. "My bills are very low. And I face east-west, too."
Through the years, his energy-saving list included …
Triple-pane glass windows

Dual-fuel heat pump and later a high efficiency electric heat pump
High efficiency electric water heater
An air flow test to identify leaks around doors, windows and elsewhere
Sealant to close any leaks
Sealant around receptacles and pipes to block any other leaks
R-30 insulation in the attic
Ventilation in the attic
High efficiency lighting
Motion detector switches
New ductwork, installed to TVA standards
Purchasing high efficiency electric appliances as old appliances needed replacing.
Planting three trees in the front yard to block the western sun.
"All of these things add up to using less electricity each month," Demeris said. "The typical house wastes 15 to 30 percent of its heating and cooling because of infiltration. Unlike most companies, we help people put us out of business."
When Ripley Power and Light added its surge protection program to help customers protect appliances and electric equipment from power surges that occur both inside and outside of the home, Demeris installed the first surge protection in the area on his electric meter, he said.
Demeris, who was raised in Chicago, began living in the YMCA when his father died. He was 15.
           
He worked at a Chicago factory and then joined the U.S. Air Force when he was 17. After five years in the military, he returned to Chicago. He and his wife decided to move to her home state of Tennessee. There he went to school on the G.I. bill and earned an associate degree in residential and commercial heating and air conditioning.
Demeris worked for several companies, including a heating and air conditioning contractor, Trane Consumer Products Division and TVA, before applying for the job of energy services specialist at Ripley Power and Light.
Mike and his wife, Debbie, have four children.
Demeris, who officially retires May 31, says he will miss his job. "I want to thank all of the customers and my coworkers. This has been the best place I have worked in my life."
In retirement, he plans to play golf, fish, buy a boat, take courses in Spanish and computers, travel, spread the gospel "to bring others to Christ," and get plenty of rides in on his motorcycle. "I'm moving into another phase of my life," Demeris said, "and I am looking forward to it."