An App for Your Smart Device! A Customer Portal!
It just got a lot more convenient to pay your electric bill and manage your account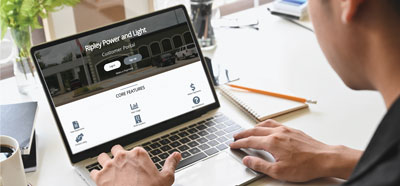 The Mobile App
Ripley Power and Light's Mobile App enables you to manage your account right from your smart device—anytime, anywhere. The app is secure, easy to get and simple to use.
The app is available on Google Play or the Apple App Store, or you can scan the QR code below.
Once the app is downloaded and installed on your device, you will see a welcome screen that allows you to sign up or log in to the customer portal.
The Customer Portal
You can access the new customer portal through the new mobile app on your smart device; by scanning the QR code, below; or through the customer portal link.
The first time you access the customer portal, you need your 12-digit account number. This is found in a box on the top left of your bill.
Select "Sign Up" on the customer portal, enter your account number and work through the prompts. You will receive an email saying your account is activated.
You are now ready to pay your bill, review your statements and monitor your utility use.
Safe and Secure
You can be assured that transactions through the customer portal adhere to the latest payment card industry data security standard.
Your information is secure and your identity protected.
Online Payments
The customer portal is the only way to pay your electric bill online, whether you are accessing it through the mobile app or our website.