Manage Your Account From a Smart Device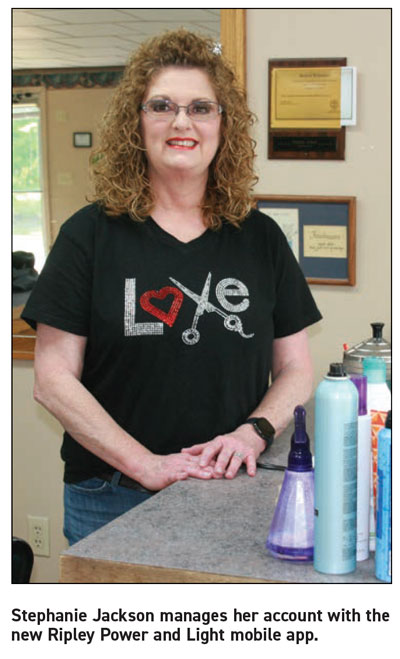 Stephanie Jackson, owner of Styles By Stephanie Beauty Salon in Ripley, loves managing her Ripley Power and Light account through the new mobile app.
The app allows Stephanie to check her balance, so there are no surprises in what she owes. She can make payments anytime from anywhere.
It can be hard to run errands to pay bills during the day because her salon and the utility office are open at the same time—even though they are practically next door.
Stephanie installed the app a few months ago after she heard about it.
"The biggest thing is convenience," she said. "In this tech-savvy world, I love it. It is just very convenient for me as a business owner."
 
Download the Mobile App
Ripley Power and Light's app enables customers to manage their accounts from their smart device—anytime, anywhere. It is secure, easy to download and simple to use.
The app is available on Google Play or the Apple app store, or scan the QR code below for quick access.
Customer Portal
Online bill payments to Ripley Power and Light now go through the new customer portal.
Customers can access the new customer portal through the new mobile app on your smart device; by scanning the QR code, below; or through the customer portal link.
The first time you access the customer portal, the welcome screen will ask you to create a username and password. You will also need your 12-digit account number, which is printed on the top left of your bill.
Then, follow the easy instructions to create your account. You are now ready to pay your bill, review your statements and monitor your utility use.
"You can be assured that transactions through the customer portal adhere to the latest payment card industry data security standard," said Mike Allmand, president and CEO of Ripley Power and Light.
"Your information is secure and your identity protected."