Ripley Middle School wins first championship since 1993
Hard work and learning from past mistakes helped the Ripley Middle School football team win its first championship in almost 30 years.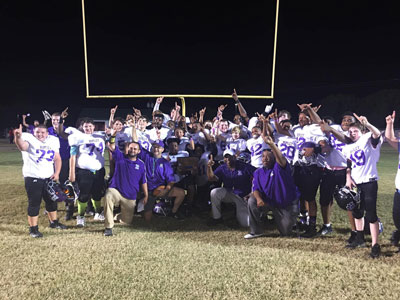 Coming into their final game of the season as underdogs, the players went on to beat Brighton 22 to 14 in a nail-biting, thrilling game.
"Brighton was undefeated," said Head Coach Hunter Dixon. "We had already lost to them once. Though we were considered the underdogs, we entered the game thinking we had a chance to win."
For most of the championship game, though, Ripley was losing. The score was 0 to 14 with six minutes left in the game when Ripley scored its first touchdown on a pass play.
With Ripley still losing 14 to 6, its defense stopped Brighton, and Ripley got the ball back. Three minutes were left in the game.
With 1 minute, 10 seconds left on the clock, Ripley
scored on a running play, went for two points and made it, ending the game tied, 14 to 14, and forcing overtime.
Ripley got the ball first in overtime on its own 25-yard line and scored a touchdown on its first play. Brighton then got its chance. Brighton took the ball all of the way to Ripley's one-yard line. It had two attempts to put the ball in the end zone, but Ripley's defense stopped it both times. Ripley won.
The last time Ripley Middle won the championship was in 1993.
"The effort and work ethic of these kids was phenomenal," Dixon said.
Normally, the team prepares for the upcoming season over the summer, but the team couldn't practice the first two months because of COVID-19. When the team finally got to practice in August, the players would keep training even when practice was
officially over, Dixon said.
"They worked extra to make up for lost time."
Dixon, who is also the P.E. teacher at Ripley Middle, has coached football for eight years. He worked at Henry County High School for four years before coming to Ripley. His assistant coaches are Anthony Barbee, Austin Thompson and Samuel Wiggins.
Dixon had 40 players on the team, one of the biggest squads he has coached; 31 of the players were eighth graders.
"It was good this year to have so many eighth graders," he said. "Most of the kids had played together all three years of middle school. It all came together this year."
The 2020 championship game will be hard for many people to forget.
 "It was the biggest crowd I have seen at a middle school game," Dixon said. "The crowd was so supportive."
Then he added, "it was a very stressful win."
---
Ripley Middle School 2020 Season
Ripley 48, Halls 0
Ripley 30, Haywood 14
Brighton 20, Ripley 14
Ripley 32, Dyersburg 14
Lake County 38, Ripley 30
Covington 36, Ripley 22
Ripley 48, Munford 22
Ripley 36, Millington 8

Semifinal
Ripley 30, M unford 8

Championship
Ripley 22, Brighton 14