Henning Resident Achieves Dream as a Professional Bull Rider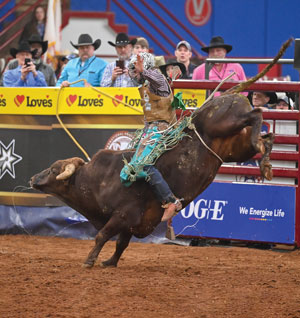 Reid Arnold, a Henning resident, turned his dream of becoming a professional bull rider into reality by being named the International Professional Rodeo Association Rookie of the Year for the 2022 season.
A rider's place in the standings is determined by how much money they make rodeoing. Reid bought his rodeo card (a permit that allows him to officially compete) about two months into the year, giving his opponents a $7,000 to $8,000 advantage over him by the time he entered the race.
He had already won upwards of $10,000 in rodeos at the beginning of the year. However, since he didn't have his card, none of these earnings counted toward his total, and he started from scratch. This could have been seen as a daunting task to make up all that ground, but he wasn't intimidated.
"I just told myself to ride bull for bull," the 23-year-old said. "It didn't really matter as long as I keep my hand shut and they pay me. I'm going to win it."
During the 2022 season, Reid competed in Michigan, Mississippi, Alabama, Georgia and Tennessee. He rodeoed just about every weekend, sometimes in one state one day and another state the next. The traveling is one of his favorite parts of bull riding.
"I like traveling," Reid said. "It does get old towards the end of the year. You're tired of going. You're sore, and you want a break, but you know you can't take a break because there's another guy out there that wants it just as bad as you. But at the end of the day, traveling and riding bulls, I mean, that's the best part of it all."
Reid was in first place in the world standings for bull riding when he entered the International Finals Rodeo this past January in Guthrie, Oklahoma, but over the course of the four-day event, another rider made up ground and pushed Reid into second place. He finished second in the world in the overall standings and won 2022 Rookie of the Year, meaning that he earned more money than all of the other rookies.
From the time he was young, the Ripley High School graduate wanted to be a bull rider. His uncle, Shawn Turner, rode in the Professional Bull Riders organization, so bull riding was in his blood.
"The first bull I ever got on, I was like 9 or 10," said Reid, the son of Shannon Turner and Chris Arnold. "I loved it, but I was scared. I ended up quitting. I was scared I was going to get hurt. Mom didn't really want me doing it."
By the time he was about 15, Reid knew that bull riding was what he wanted to do. His friend, Colton Ozment, died, and there was a memorial rodeo held in his honor.
Reid entered that rodeo and won. From there, his bull riding career took off. For several years, he went to open and amateur rodeos and learned how to ride.
"I started to ride well late in the 2021 season," Reid said.
Since a rider is classified as a rookie the first season they have their card, Reid decided to wait until the 2022 season to purchase his. He competed in several rodeos in early 2022 to earn money so he could buy his card. The move paid off with his winning the 2022 Rookie of the Year Award.
However, even after being named the best among the rookies, Reid isn't satisfied. "It's a big accomplishment," he said, "but at the end of the day, it's not a world title."
Reid lives and breathes bull riding. He is dedicated to his sport and won't let anyone outwork him in the arena.
He hardly takes any time off unless he's nursing an injury. Last spring, for example, a shattered radial head in his left arm slowed him down a little.
If somebody beats him, it won't be because he didn't give it his all.
"I'm excited," Reid said. "I'm happy. I mean, all my hard work paid off, and I'm ready to do it again this year."