Volunteer wins 'Best of the Best' statewide award
On any given day, you'll find Carolyn Simpson volunteering her time somewhere – whether she's working at the Bags of Hope Food Pantry or the exhibit building at the fair or attending a meeting of one of the many community boards on which she serves.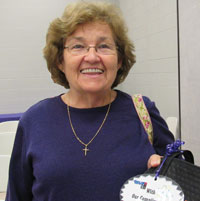 Many of those activities are through her membership in the Lauderdale County FCE (Family, Community and Education) Clubs. Nominated by Lauderdale County FCE for a statewide award, Simpson won at the regional level and then was named the Best of the Best in FCE for the state of Tennessee.
It's a rare day that she doesn't have a meeting to attend, she said. "I have a calendar that has my whole life in it."
For more than 40 years, Simpson was a hairdresser in the Curve community. Every Monday through Thursday, she also made lunch and took it to her family members who were working in the fields. She and her husband, Charles, raised three children.
She had to give up her shop when she started loosing feeling in her hands because of carpal tunnel.
"I retired," she said. "For weeks, I didn't know what to do with myself. Then, I just started saying 'yes' when people asked for help."
Her community boards include the Lauderdale County Commission on Aging, county Health Council and Curve Community Center Board. She volunteers at Ripley First United Methodist Church and with organizations all over the community. For years, she was in charge of the exhibit building at the fair.
"It's important to make a difference," she said. "If you don't make a difference, I feel there is no reason to be here."