It's beginning to look a lot like Christmas ...
Ripley family fills yard with Christmas cheer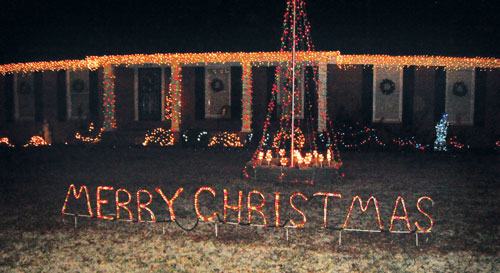 When you drive by Chris and Melissa Hoffman's house this Christmas season, make sure you roll down the car windows so you can hear the music as you look at their decorated house and yard.
"We love Christmas; we love all of the lights," Melissa said.
That's why their home at 259 Church St. in Ripley is opulently decorated for the holiday season.
"We light up everything in the yard," Melissa said. "And every year, we try to add something more." They're slowly filling up two acres of yard.
Their oldest decoration, which was bought more than 20 years ago in Gatlinburg after they married, is a wire frame with Merry Christmas spelled out. It is covered in lights so you can't mistake its message.
The Hoffmans usually start putting up their Christmas decorations on Thanksgiving Day. Chris does most of the work outside, while Melissa is in charge inside. They have a Christmas tree in every room; each with its own theme.
The main tree inside is filled with ornaments with special meaning, Melissa said. "Every ornament has a story, where or why we bought it or who gave it to us." The tree has ornaments made by their two children, Chrissy and Neally, as they grew up and Hallmark ornaments her parents bought. Each year, Melissa said, her parents bought a Hallmark Christmas bell with the year on the ornament.
The Hoffmans have six grandchildren. "My oldest grandchild, Carlee, thinks it's a winter wonderland outside," Melissa said. Their elderly neighbor across the street says the display brings back many memories for her. Their next door neighbor is decorating her yard, too.
"The decorations just make people happy," Melissa said. "And we need more happiness in the world."